Whats new in Office 2016 ?
Improved Dark Theme and Ribbon Tab Text
Pick the Office theme that's right for you. The Dark Gray theme provides a high contrast look and feel that is easy on the eyes. The Colorful theme offers a modern and fresh look. The White theme provides a traditional Office look
The light theme that's been available in Office may be unusable for some users. For those of you that really don't like the light theme or simply can't use it, Office 2016 introduces improvements to the Dark theme that makes it easier to use the interface, including better readability in Word's navigation pane and several Outlook readability fixes (white text on light background, dark text on dark background, and disabled text being unreadable).
The ribbon tab text is no longer in all caps and hover states on the ribbon tabs have been added.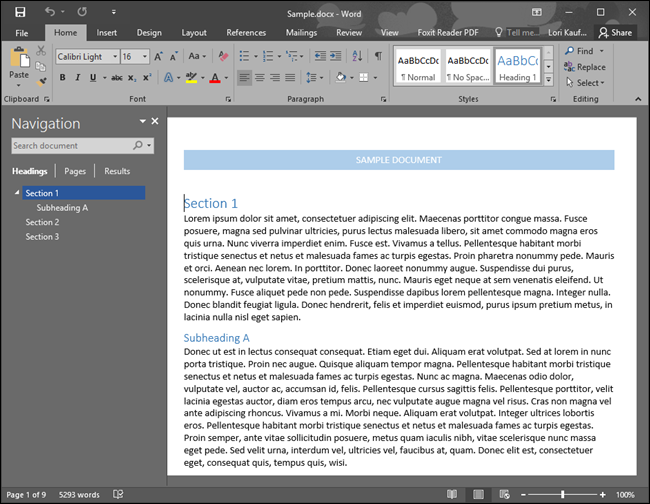 Smart lookup 
Fact-check or explore terms in your documents with Bing-powered Smart Lookup. Simply highlight terms in your document and use this feature to bring in search results from the web right into your reading or authoring environment.
"Smart Lookup" is already available in Word and Outlook, and now it's been added to Excel and PowerPoint. This feature is also called "Insights from Bing" and helps you learn more about your content by gathering and displaying precisely the right information in the context of what you are reading or writing about. The information is gathered from a variety of sources like Bing Snapshot, Wikipedia, Bing image search, and Oxford dictionary, allowing you to do anything from a quick look up to a detailed exploration without leaving the Office app. Insights can be accessed by right clicking a word or phrase, through the Review tab on the ribbon, or via the "Tell Me" box (which we discuss in the next section). Insights is powered by Bing and uses the selected text and some surrounding content to get contextually relevant results.
Insights can be accessed by selecting a word or phrase and right-clicking on it, through the Review tab on the ribbon, or by using the "Tell Me" box. Insights uses the selected text and some surrounding content to get results that are contextually relevant and links and artwork that you can use to enhance your Office document.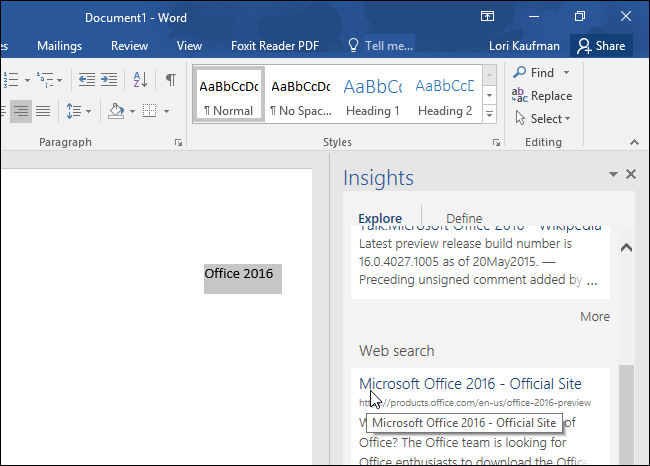 Tell me – Natural Language Query
Simply type what you want to do in the app using your own words, and then Tell Me will guide through the process as well as offer additional resources.
For most of us, there a lot of features and commands in Office that we never use. Sometimes it's simply because we have trouble finding the tools we need. To solve this problem, Microsoft added the "Tell Me" feature, which first appeared in the Office Online suite, to Office 2016. The "Tell Me" feature uses natural language to help you find what you're looking for. The "Tell Me" box sits inconspicuously to the right of the tabs on the ribbon bar in all the apps in the suite, except for Publisher, OneNote, and Skype.
Quick Shape Formatting
Take advantage of the many redesigned shapes that are now available. In Visio Professional, the Basic Electrical template now has shapes that are compliant with the IEEE standard. In Visio Standard, the Office Layout shapes have been updated. Also check out the Starter diagrams to quickly get going.
This feature increases the number of default shape styles by introducing new "preset" styles in Word, Excel, and PowerPoint. Once you draw a shape in your document, you can apply a new preset style to the shape.
Real-time Document Collaboration
Google Docs users have been enjoying real-time collaboration for years. However, Microsoft has finally caught up and improved real-time collaboration in the core apps in Office 2016. Word, Excel, and PowerPoint now make it easy to have multiple people editing the same document, whether they are using Office Online or the desktop Office apps.

Improved backstage
The Backstage screen received an update that makes saving, opening, and browsing for files easier and faster. The "Recent" files list is now categorized by document modification date and the "Browse" button has been elevated for improved visibility and now provides quicker access to the File Explorer.
Convert Handwritten Equation to Text
Word, Excel, and PowerPoint now include a new feature called "Ink Equation" which allows you to insert mathematical equations by handwriting them using a mouse, a digital pen, or even your finger on touch-enabled devices.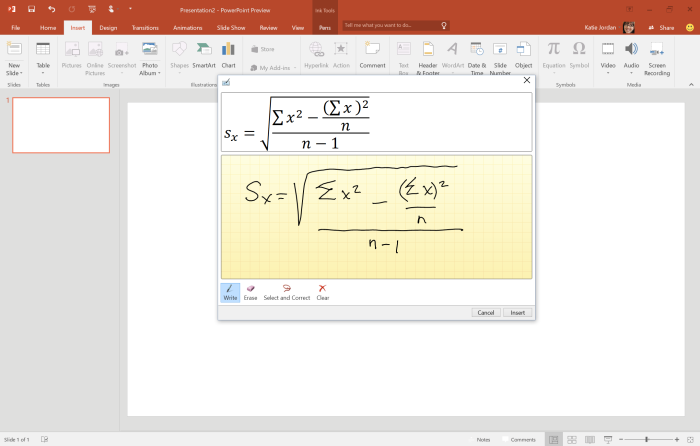 Modern Attachments in Outlook
Attach a document from your recent items and share them from OneDrive or SharePoint with email recipients. Also configure sharing permissions so that all the recipients have access to the attached file without having to leave the app.
Outlook 2016 has gotten some love as well. Attaching files is now easier and more intuitive. Now, when you click the "Attach" button to attach a file to the current email, you'll see a list of recently worked on files, both locally and on OneDrive. This can be very useful considering the file you want to attach is probably one you've accessed or been working on recently. The list also includes options to browse your PC or web locations if the file you want is not on the "Recent Items" list.
There are many other new features and improvements in Office 2016, such an improved grammar checker, third-party plug-in integration, security and management enhancements, and new modern charts and other improved business intelligence tools in Excel. Real-time collaboration improvements and interface changes, such as the modern attachments in Outlook and the improved backstage view, are the most significant changes, making Office more efficient and allowing you to be more productive.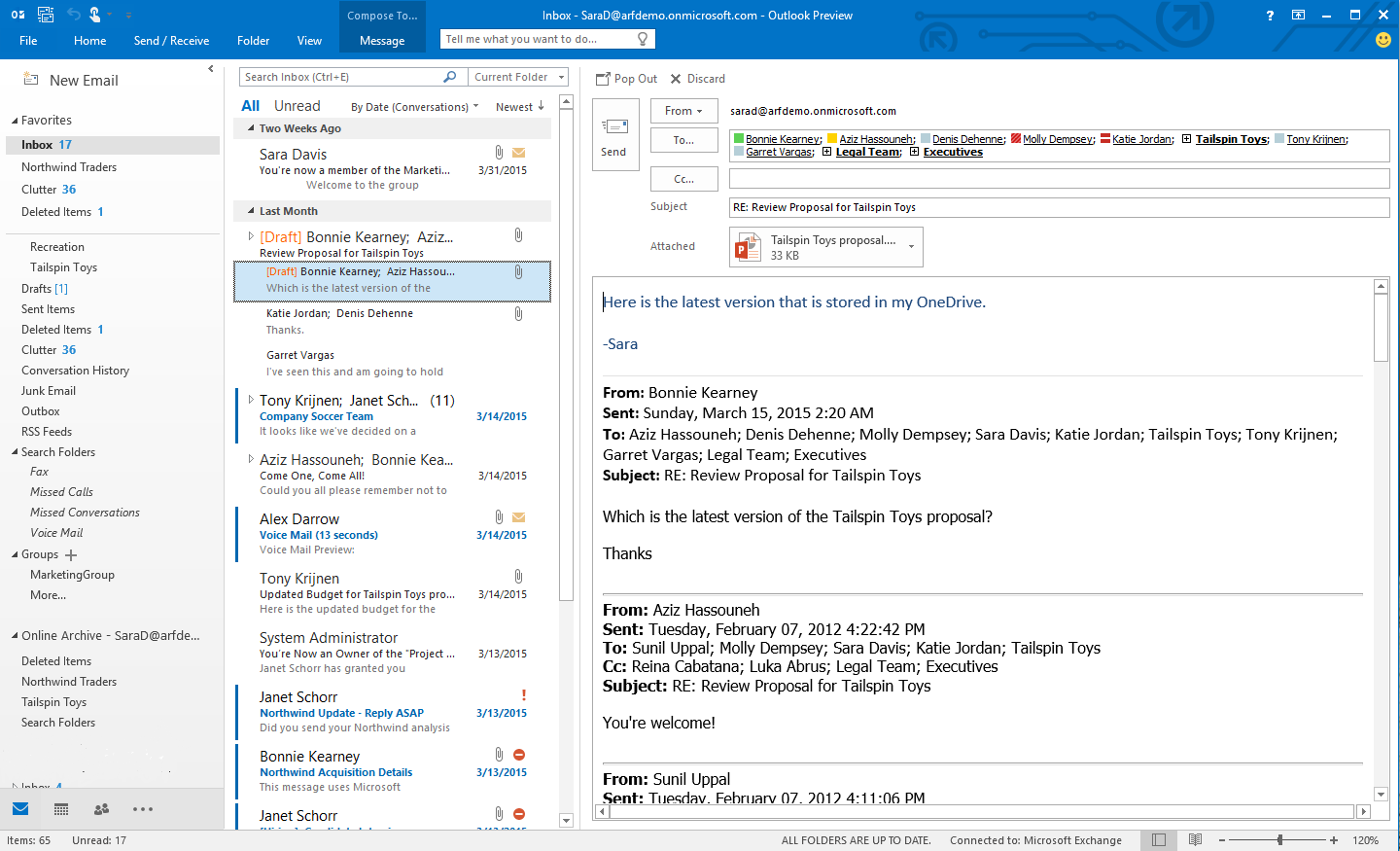 Skype Integration
Use Skype to check in and collaborate with someone using Instant Messaging (IM), voice, video, or screen sharing. Also join online meetings while on the go using the Skype for Business mobile app. See who is online, IM meeting participants, and follow along when a presenter shares his screen – all from your tablet or phone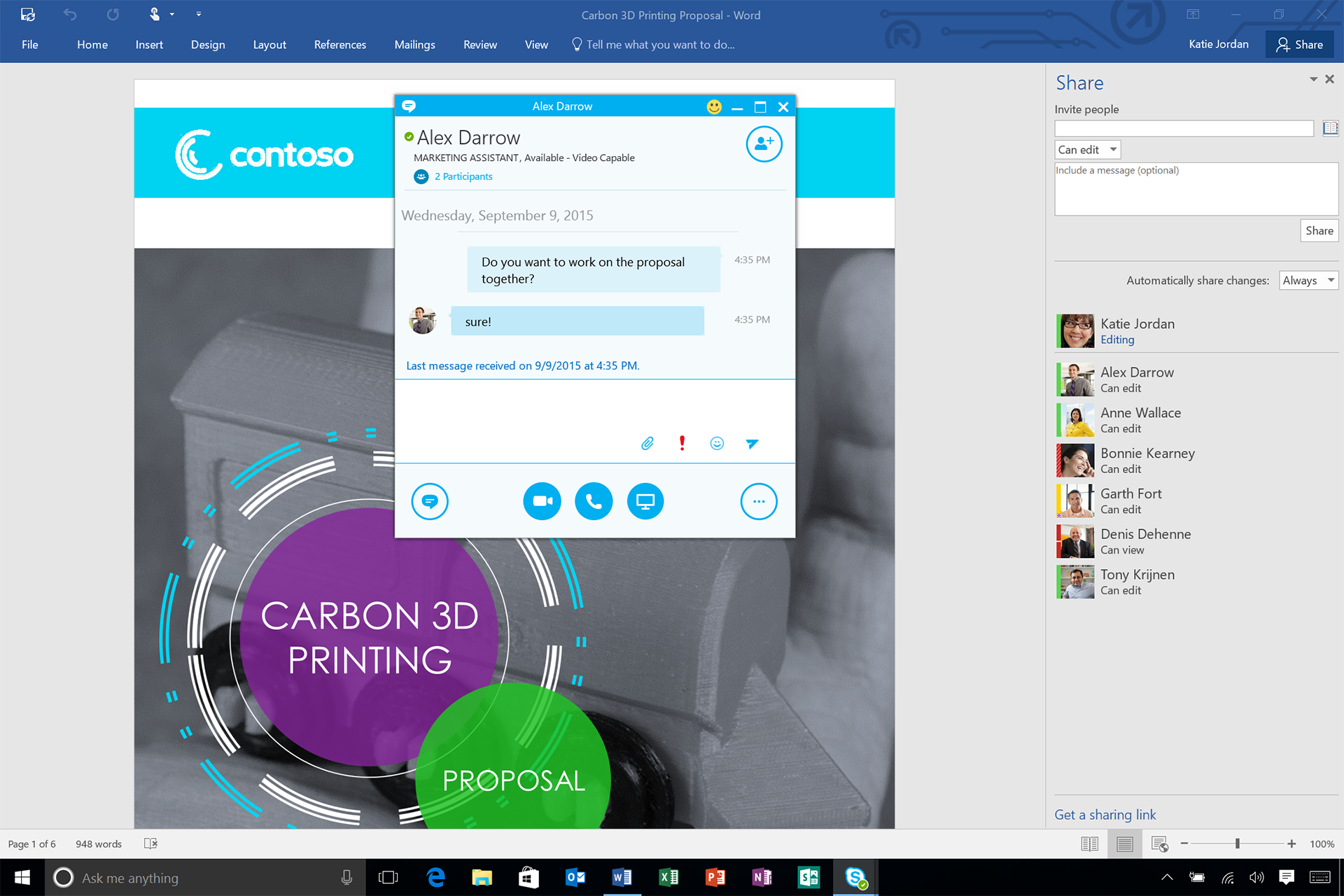 One-Click Forecasting
With one simple click, create forecast charts based on historical data and predict future trends. This new capability uses the industry standard Exponential Smoothing (ETS) algorithm to give you reliable forecasting data.